Our Wines
Walker Road has focused on blended wines, i.e. blending more than one grape varietal. Outside of Europe, most wines are identified as a single grape varietal – Cabernet, Merlot, Chardonnay, Zinfandel, etc. Many wines from the older growing areas – Bordeaux, Chateau Neuf, and event Chianti – are a result of careful blending in an effort to achieve more than a single variety could offer.
We blend for the same reasons, and also to achieve continuity in the wines.
Walker Road Red Table Wine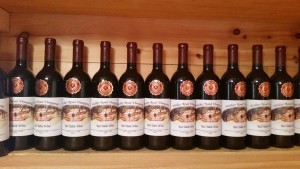 Walker Road Red Table Wine is a dry, full-bodied wine made from Saint Croix, Cabernet Franc and Sangiovese (Brunello) varietals. This wine is completely dry, softened by a long, cool fermentation, and oaked separately in barrels for at least a year prior to blending
This wine has had numerous awards. Significantly:
Silver Medal, San Francisco International Wine Competition (2014)
Silver Medal, The Big E, (2008, 2010, 2012)
Keeping with the classic approach, we hand dip each bottle in wax to give our Red Table Wine a hand-crafted, elegant finish.
Gertrude's Garden White Table Wine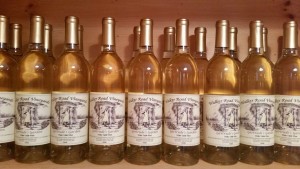 Gertrude's Garden is a dry white table wine blended from Seyval Blanc, Traminette, and Sauvignon Blanc grapes. It is sometimes thought to be slightly sweet because of a slight citrusy note, but it is a dry white wine.
This wine also has had numerous awards. Significantly:
Silver Medal, Finger Lakes (2014)
Silver Medal, The Big E, (2010, 2012)
Ask about the story behind the name and label for Gertrude's Garden when you visit our vineyard and tasting room.
Where to Purchase and Enjoy Our Wines
Our tasting room in Woodbury, CT is the best place to taste and purchase our wines. If you are looking for Walker Road wines during the week or in the offseason, you can find our wines at the following stores and restaurants.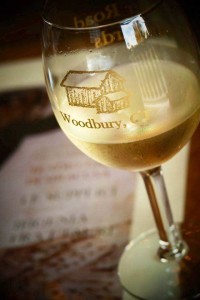 Where to buy:
Nutmeg Wine and Spirits, Woodbury
Country Spirit, Woodbury
Lake Spirits, Southbury
Middlebury Fine Wine, Middlebury
Larry's, Middlebury
NeJaimes, Watertown
NeJaimes, New Milford
Restaurants that serve Walker Road wines:
John's Cafe, Woodbury
Carlito's, Woodbury
Dottie's Diner, Woodbury
GW Tavern, Washington
Main Street Grill, Watertown
The Mayflower, Washington
The Grotto and Mrs. G, Waterbury
Connecticut Winemaking… a Unique Story
Winemakers in Connecticut grow grapes and produce wine on a much smaller scale compared to traditional growing states.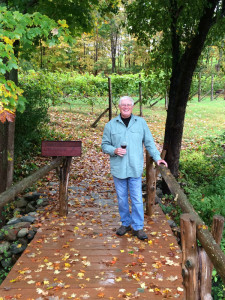 As in any state, each grape growing area has a story to tell in its unique soil conditions and local climate. Connecticut grape growing conditions result in diverse and interesting wines throughout the region.
Connecticut farm wineries operate under the Farm Winery Act, which requires wineries to grow a significant portion of the grapes (or other fruit for winemaking), on site. Commercial vineyards are now developing in Connecticut to grow grapes and supply local wineries.
Growing Grapes in Cool Climates
Growing traditional wine grapes in Connecticut can be a difficult task because of the cold winters and wet seasons. Research and experimentation has helped refine the cultivars (grape varieties) and techniques, such as trellising, that allow us to grow in Connecticut's challenging growing conditions.